Tiny Tots 2017/2018 Schedule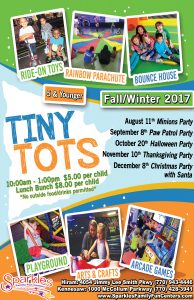 HELPFUL HINTS TO ENSURE A SUCCESSFUL PARTY
Party Mom should arrive 10 minutes in advance of the party. We can not let your guests in until we have your completed guest list.
Please present your completed guest list to the cashier upon arrival. The guest list alleviates the issue of paying for non-invited guests/siblings.
Please check in with the party host manager when you arrive. At that time she will review the time schedule for your party.
You can order food for your adult guests from the party host manager.
Balloons are availalbe to make your table more festive.
Food/Drinks are not permitted in the facility (except birthday cake)
Parents ask us how much to tip the party hostess. Naturally, that is entirely up to you. If you received excellent service, please let your hostess know!