FUN for the whole family here at Sparkles at Kennesaw! Check out our activities below.
You can purchase everything from skate laces to toe stops, and even brand new skates in our pro shop! Don't forget, Skates make a GREAT Gift! If you aren't sure what type of skates to purchase, get a gift card and let them pick out their own!
Click the pics below to see!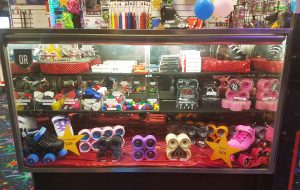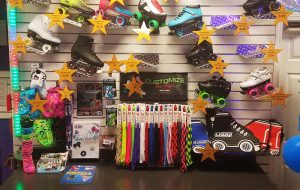 Lace up a pair of skates and head out to our skate floor at Kennesaw. Skating is fun for all ages! Not only do you have a great time, but you also get an excellent cardiovascular workout when you skate! Feel free to bring your own skates (no heelies, please) or rent ours! We offer Quad, Inline and Speed Skates. Our DJ plays all of your favorite music from the 70's, 80's, 90's and today! We also offer Skating Lessons for children, teens and adults!
Check out our HUGE indoor playground. This multi-level, soft and bouncy playground is perfect for children ages 1-10! There's something new to be discovered around every corner! Swings, slides, bridges, obstacles and more…..the kids are never bored in this playground! Also our playground attendants play games and interact with the children while watching for their safety.
Our separate TODDLER AREA is great for the even the youngest children. Toddler slides, blocks to stack, and ramps to climb all add up to hours of fun! Plus children 2 years and younger get to play in the Toddler area for FREE!
If you aren't skating, your admission fee can cover just the playground.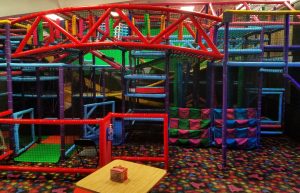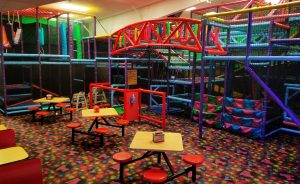 You don't just play the game, you ARE the game!
After a brief introduction, each team puts on lightweight vests with attached phaser and enters an alien world, ready to seek, find, and deactivate opposing team members and their base station for points.
The arena is one of the only TWO-STORY Laser Tag facilities in Georgia! It also consists of barriers, strobe lights, police beacons, black lights, hiding spots, base stations, sentries and more. The object is to out score the other team. Points are awarded for tagging the opponents base station and by tagging other players.
Loud heart pumping music surrounds you as the red laser beam cuts through the fog surrounding you. You know your opponent is near! Turning around, you see him near your team's base station that you're trying to protect. Suddenly in the black-lit fog enshrouded arena, an array of multicolor lights flash across your opponent. You seize the opportunity, aim and fire! Seeing his sensors flash red and green, you know that you have just brought your team one point closer to victory!
Click the pics below to see our 2-Story Laser Tag Arena!
You will find the latest and greatest video and redemption games in our Arcade.
Try your luck at skee-ball
Challenge a friend to a game of air hockey
Thrill to the excitement of race car driving
Whatever you choose, you will have a great time!
Redeem your game tickets in our phenomenal Fun Shop. Our Fun Shop redemption center offers a huge selection of toys and prizes for all ages.
Game Cards can be purchased at the door with your admission for a discount. Buy 500 Game Points at a discount price of only $20. ($5.00 FREE)
Click the pics below to see!