Are you looking to host or facilitate a group function for your organization? Well, Kennesaw can help! We can accommodate your special event and make it memorable! Book your organization NOW! Or call us at 770 428-3941.
Kennesaw partners with local organizations, clubs, communities and school systems to assist in fun activities that create memorable moments for kids of all ages for years to come. Kennesaw offers great group and school packages for Daycares, School Fundraisers, STEM Field Trips, End of School Year Parties, Scout Events, Sport Team Parties, Corporate Events, and Private Events.
Mix and match your activities to customize your group's package! We have packages for every budget and group size.
We are now offering a cash discount or we apply a price adjustment on credit transactions that is not greater than our cost of acceptance.
Are you looking to host or facilitate a FUN function for your school?
Well, Sparkles of Kennesaw can help! We can accommodate your special event and make it memorable! Book your organization NOW! Or call us at 770 428-3941
Sparkles of Kennesaw partners with local organizations, clubs, communities and school systems to assist in fun activities that create memorable moments for kids of all ages for years to come.

Think back on your days in elementary and middle school. The best and most memorable days in class were not the lectures and note taking, but those days when the teacher would divert from the normal routine. Whether it be a class held outdoors, or a hands-on lab in science class, those are the lessons that would stick with us for years to come.
STEM education is where students loose interest the quickest, so it's important to present engaging ways for students to learn these subjects. That's where our STEM Skating Program comes in! This program works off of those hands-on and out of the norm teaching principles to help get students excited about education areas like science, technology, engineering, and math. Find out how Sparkles Family Fun Center in Kennesaw, GA will spark your child's interest in these subject areas again!
Pricing:
$17 per person: Skating, Playground, 1 Game of Laser Tag and Sparkles Pizza Buffet (1 hour lunch time, includes soda)
$15 per person: Skating, Playground and Sparkles lunch (slice of cheese pizza and small soda)
$13 per person: Skating and Playground. Students bring sack lunch from home
We do offer a $1 discount per person for Title 1 schools.
This program is available Monday – Friday morning and afternoon.
Minimum payment of $650 is required for field trips with fewer than 50 students.
Elementary Lessons:
Middle School Lessons:
High School Lessons:

Contact Us
Contact us at 770 428-3941   OR   [email protected] to sign your kids up for our STEM Skating Program today!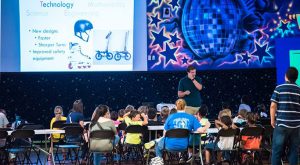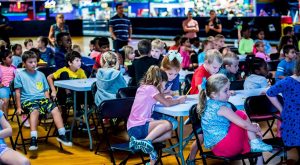 Sparkles is the perfect venue for your group, small or large!
Group Packages include Skating, Rental, 1 Game of Laser Tag and Playground (10 & younger)
Sparkles
Group Size
20-30
31-49
50-99
100+
Monday – Thursday
$11 per person
$10 per person
$9 per person
$8 per person
Friday, Saturday, Sunday
$15 per person
$14 per person
$13 per person
$12 per person
Qualifying groups must have a minimum of 20 paid admissions to qualify for discounts.
**DURING PUBLIC SESSIONS ONLY** Non-skating chaperones are free of charge.
Roller skating, laser tag, arcade and so much more!
Our newly renovated facility offers roller skating on our expansive skate floor to the hottest music, a multi-story laser tag arena, an indoor playground for kids up to 10 years old, an arcade filled with fun video and redemption games, and last but not least, Couey Cafe, where you can find an expansive menu of food and drinks. Now serving adult beverages as well!
Please call us today to make your corporate reservation. Contact us at 770-428-3941 ... OR ... [email protected] ... or
... and we'll call you!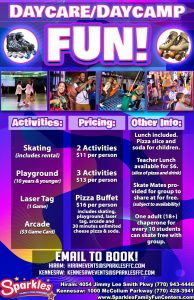 These rates are valid for groups with a minimum of 10 people.
Availability is limited, so please make your reservation as soon as possible.
We recommend that you pre-schedule your trip to ensure that we can accommodate your group.
Prices and activities are subject to change without notice.
HELPFUL HINTS FOR YOUR GROUP EVENT
Please make sure to pre-book your event with our manager to ensure that we are available for the date and time you request.
Remind your students that socks are required to participate in skating and playground
You must arrive together as a group to be admitted.
We suggest reminding the parents that we do permit the children to purchase additional activities when they arrive. We offer skating, playground, laser tag and an arcade with video and redemption games. In addition, our stuff shop sells novelties and glow products.
Sparkles will assign your group a lunchtime (if included in your package) upon your arrival at the facility.
Outside food/beverages, with the exception of state mandated lunch supplements, are not permitted to be brought into the facility. This includes teachers/chaperones bringing in lunch from outside.
All children are included in the headcount. There is no charge for non-skating parent chaperons.
Teachers/chaperones may purchase lunch at a discount upon arrival.
If you have any questions, please call us in advance of your trip.
Hey Kennesaw State University students, sororities, and fraternities! Did you know that we throw the BEST parties in town?
Sorority Party
Get the girls together, dress up, and have a themed roller skating fundraiser for your charity event this year. Nothing brings people out to an event like a lot of fun and a great costume. Book Sparkles Kennesaw for your private event and we'll cater to anything you need. We can open our Couey Cafe to you and your guests so that you don't need to worry about a caterer. You can create your own music list, or we'll provide one for you, which ever works best for your event. Don't worry about staffing your event either, we're happy to provide you with any people that you need to work your event so that you can sit back and enjoy the evening with your friends.
Fraternity Party
Looking for a way to build some comraderie with your new pledges? Book a laser tag party with Sparkles Kennesaw! Nothing beats teaming up together - new members against old - and seeing who wins. Losers buy the winners a round of beer and pizza after the game!
We can create an event that suits the needs of your sorority, fraternity, or other student organization. Call or contact us today to find out more about our party options.
Sparkles is the place to be for homeschool events in Cobb County! Whether you're interested in starting a homeschool play group, giving kids an awesome physical education field trip, or getting together with other home school families for socials, holiday parties, and more, we make it easy and affordable.
Our safe, family-friendly environment is the go-to place for homeschool activities in Kennesaw, Marietta, Woodstock, Acworth, and more! To schedule your homeschool event, contact us online or call us at 770 428-3941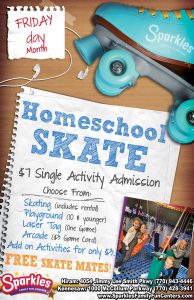 Your child will have plenty of opportunities to engage in physical activities and socialize whether he or she decides to:
Glide around the roller skating rink
Battle it out in our 2-story, black light laser tag arena
Enjoy the playground (only for children 10 years old and under)
Have a blast in the arcade ($3 game card)
If you have something specific in mind that doesn't quite fit our homeschool package, just head over to our private events page- we can make it happen! Besides homeschool events, Sparkles is a great place to host your child's birthday party, holiday parties, business events, church outings, or team-building events. Contact us online or call Diane Adams at (770) 595-3003 today!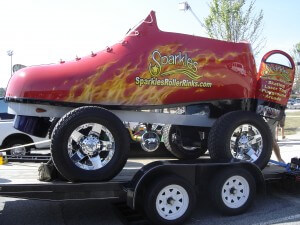 Atlanta, GA is quickly growing in popularity for the movie filming industry. Lately, we've had all kinds of stars move to the area, and several major films were filmed right here in our own back yard. Sparkles Kennesaw is excited to hear about this dramatic upswing in the film making industry in our state, and we want to help.
Movie or TV Show Set in Kennesaw, GA
Sparkles Kennesaw invites any and all filmmakers to utilize our family entertainment center as a set for their next premier movie. We have several days a week that are dedicated to private events so it would be no problem setting up a time for you to come film at our Kennesaw, GA location. We have everything you need: Wifi, a roller skating rink, indoor playground, laser tag arena, arcade, a huge parking lot for all of your equipment and associated actors and employees. We are happy to accomodate you in any way we can.
Please call or contact us today to speak with our event coordinator about arranging a time for your director to see our space as a prospect for a set for your next movie or TV show.
Contact us at 770 428-3941 or email [email protected]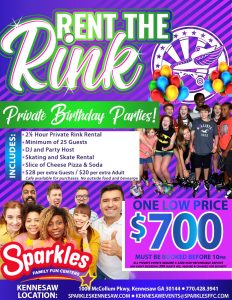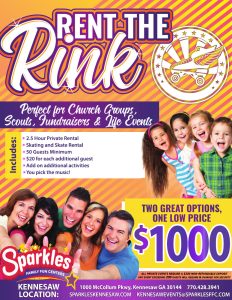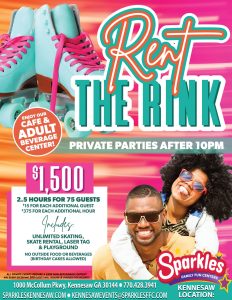 We offer affordable private events for all ages and interests, and we truly have something for everyone! Our spacious facility includes:
Roller skating- A spacious rink, colorful lights, and great music make Sparkles the best place for skate parties in Atlanta!
Laser tag- Our two-story, blacklight laser tag arena is one of the only ones of its kind in the state. With thumping music, fog, strobes, unique blacklight murals, and a creative layout perfect for ambushing your opponents, laser tag at Sparkles is an adrenaline-fueled experience you'll love.
Indoor playground- For kids up to 10 years old, our indoor playground is an exciting adventure! We even have a special area for kids 2 and younger.
Arcade- We've got all of your favorite classic arcade games like skee ball, plus fun new games to try like Angry Birds! Afterwards you can head over to our Stuff Shop to spend the tickets you won on cute and quirky prizes.
Couey Cafe- Our cafe serves up tasty treats for groups of all sizes, from individual items to party platters.
No matter what type of private event you're planning in Kennesaw, Marietta, Woodstock, or other nearby areas, we can make it one to remember! Your guests will have a blast and you'll make some unforgettable memories at our unique private party venue. Contact us to discuss your:
Sweet 16 party
Bat/bar mitzvah
Quinceañera
Surprise party
Field trip
Fundraiser
Corporate event
Religious/youth group event
Block party
And more!
Sparkles offers fundraiser skating parties and outside events for local schools. Check out our options below!

Helping your child's school raise money has never been more fun! Sparkles Kennesaw is proud to provide local schools with great options for fundraiser parties for all ages. There's something for everyone at our fundraiser parties, from kids to parents to teachers to older and younger siblings.
If you're interested in booking a school fundraiser at Sparkles, don't wait!
When it comes to winning team parties in Kennesaw, Sparkles is the place to go! No matter what the sport, occasion, or size of your group, we have team party options to fit your needs.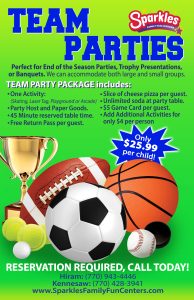 At a cost of only $25.99 per person, you can't beat the value of our team parties!
These parties MUST be booked in advanced. Want to add more activities or other add-ons? Just contact us to personalize your party.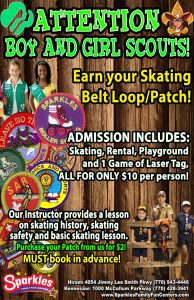 Contact us at 770 428-3941 … OR …

[email protected]

 for more information and available dates!