Sparkles is the place to be for homeschool events in Cobb County! Whether you're interested in starting a homeschool play group, giving kids an awesome physical education field trip, or getting together with other home school families for socials, holiday parties, and more, we make it easy and affordable.
Our safe, family-friendly environment is the go-to place for homeschool activities in Kennesaw, Marietta, Woodstock, Acworth, and more! To schedule your homeschool event, contact us online or call us at 770-428-3941!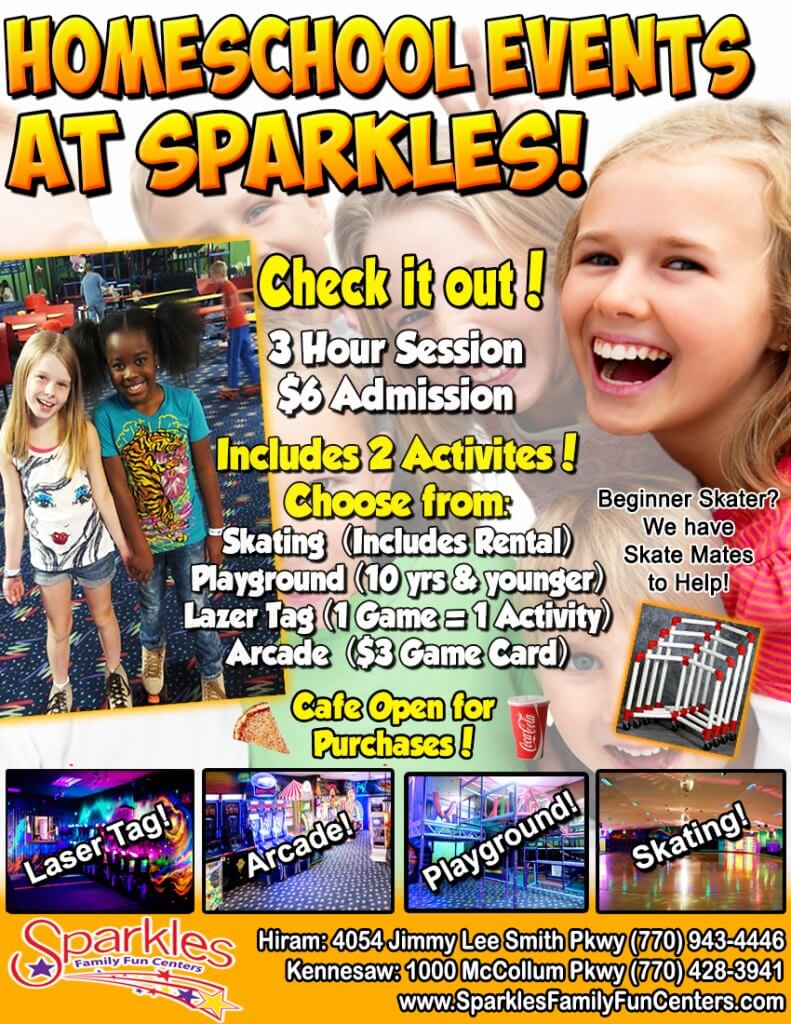 Our fun, safe, and family-oriented atmosphere is just the place for homeschool events for all ages. Book us for homeschool prom, get-togethers or play groups, and don't forget to book an end-of-year celebration. No matter his or her age, your child will find something exhilarating to do at Sparkles!
Your child will have plenty of opportunities to engage in physical activities and socialize whether he or she decides to:
Glide around the roller skate arena
Battle it out in our 2-story, black light laser tag arena
Enjoy the playground (only for children 10 years old and under)
Have a blast in the arcade ($3 game card)
Booking a homeschool event at Sparkles means that you can even get away from the regular classroom schedule to chaperone students having loads of spontaneous, hands-on fun. In fact, you can join in on the fun, too! After everyone works up an appetite, head over to Couey Cafe to recharge.
Our homeschool event package is refreshingly affordable: each child can pick two activities and play for a 3-hour session for a total of $6. (Yes, that amount even includes skate rentals, and new "skate mates" will help beginning skaters balance!) So, for less than the cost of a movie ticket, your child can have an afternoon chock-full of exciting, challenging experiences all while reaping the health and mood benefits socializing and physical activity create.
If you have something specific in mind that doesn't quite fit our homeschool package, just head over to our private events page- we can make it happen! Besides homeschool events, Sparkles is a great place to host your child's birthday party, holiday parties, business events, church outings, or team-building events. Contact us online or call us at 770-428-3941 today!