There's nothing quite like putting on a brand new pair of roller skates. From smooth wheels to the shiny new boot, there's no way you can frown with a brand new pair of skates on your feet. Like a new car, you want to make sure that the wheels on your feet receive regular maintenance. Extend the life of your skates with these easy tips.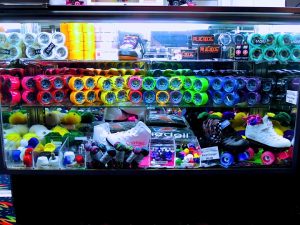 Tighten your trucks. Before you go for a spin make sure the trucks on your skate are tight and secure. (The truck of a roller skate is the piece of metal that the wheel axle passes through. The trucks attach to the plate and hold the wheels. You can tighten or loosen the trucks to vary the amount of control you want in your pair of skates.)
Adjust your toe-stops. Experiment with the position of your toe-stop to see what place feels best.
Check your wheels. Every few weeks, you should look over your wheels and check for a smooth spin or bumps. If there is some resistance in the wheel spin, check the area for damage, dirt buildup or other debris.
Keep bearings dry. Whether it's rain, sweat, or a spill from a water bottle make sure to wipe off any water from your roller skates. Roller skating sessions outside can cause the skates to collect moisture and other particles that can wear on the skate.
Looking to buy a new pair of skates? Sparkles in Kennesaw has a Pro Shop for all your roller skating needs. Whether you're looking for new laces, toe-stops, bearings or wheels, we've got it all! Stop by on your next visit and customize your wheels!