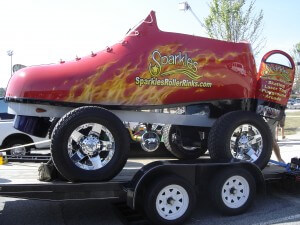 Atlanta, GA is quickly growing in popularity for the movie filming industry. Lately, we've had all kinds of stars move to the area, and several major films were filmed right here in our own back yard. Sparkles Kennesaw is excited to hear about this dramatic upswing in the film making industry in our state, and we want to help.
Movie or TV Show Set in Kennesaw, GA
Sparkles Kennesaw invites any and all filmmakers to utilize our family entertainment center as a set for their next premier movie. We have several days a week that are dedicated to private events so it would be no problem setting up a time for you to come film at our Kennesaw, GA location. We have everything you need: Wifi, a roller skating rink, indoor playground, laser tag arena, arcade, a huge parking lot for all of your equipment and associated actors and employees. We are happy to accomodate you in any way we can.
Please call or contact us today to speak with our event coordinator about arranging a time for your director to see our space as a prospect for a set for your next movie or TV show.