The days are heating up, and so are the nights! If you're looking to stay active while escaping the summer heat, Sparkles Kennesaw has fabulous upcoming skate events to get your summer started right.
Adult Skate Night
Sunday, May 21st from 7:00 am to 10:00 PM
Hosted by Atlanta's DJ Silver, Sparkles' adults only (18+) skate night means space for adults to have fun and get some exercise without worrying about kids underfoot (or under-skates)! Enjoy the huge skating floor, arcade and stuff shop, cafe, wifi, and the only two-story laser tag in Georgia, or get some skates of your own at our pro shop. $8 admission and $4 skate rental makes adult skate night an affordable, awesome night for friends, couples, teammates, and coworkers.
Memorial Day Madness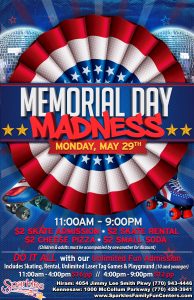 Monday, May 29th from 11:00 am to 9:00 pm
Beat the heat and celebrate in style! It's hard to find a better deal on Memorial Day events. Sparkles Kennesaw is offering $2 admission, $2 skate rental, $2 small sodas, and $2 slices of cheese pizza. Have we gone mad? Maybe! We also have Unlimited Fun Admission, Memorial Day only. From 11 am – 4 pm, $16 per person covers admission, skate rental, and unlimited laser tag games, plus playground time for kids under 10. After 4 pm the price drops to only $12. Skip all the planning, shopping, and sunscreen that goes into a Memorial Day cookout. We have all the fun you could want right here!
Be sure to keep an eye on our other upcoming events in Kennesaw, as well as our summer schedule. With events, open skate times, and lessons, there's always something going on at Sparkles Kennesaw!