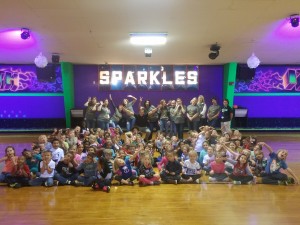 Have you considered adding an element of fun to your new year's resolution? Sparkles Family Fun Center, which attracts visitors from Kennesaw, Acworth, and other towns in Cobb County, Georgia, provides a range of opportunities to help you start a new year on a healthy note and spend some quality time with your friends and family.
Enjoy entertaining events
New Year's Eve Late Night Skate and a variety of events are hosted during following weeks and winter breaks.  Enjoy a night with friends, or treat your child with a special playing and learning experience. Private parties can also be booked.
Get fit
Skating has mostly been known as an enjoyable pastime. As its benefits for overall health and well-being are gaining more recognition, it is becoming an exercise of choice for many people. Improve your body shape and stay healthy while unleashing your inner child.
Burn calories
The muscles most active during skating, which burns more calories than many other physical activities, are in the region of abdomen, hips, and thighs, where most of the excess body fat is usually stored. Many forms of exercise don't target those areas of the body. This makes skating a smart choice to help you shed the extra weight, especially if you've chosen trimming down as your New Year's resolution.
Sparkles follows the Cobb County school schedule, so its young visitors from Kennesaw and Acworth can learn to skate during the winter breaks. Non-skating parents accompanying their young ones are not charged for the entry. Skates and other accessories can be purchased at the venue.