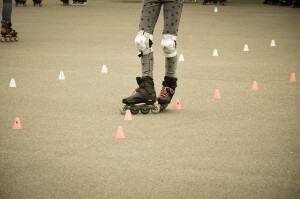 Kids are busy at work in the classroom as Cobb County schools are back in session. While they are learning about the history of our country, how to write their ABC's or all about the periodic table, we thought it would be fun to share a little bit of history about our favorite pastime, roller skating!
A Lesson in the History of Roller Skating
John Joseph Merlin, an inventor from Belgium, is credited for inventing the first inline skate in 1760. Merlin was invited to a masquerade party in London and wanted to make a grand entrance on his newest invention. In an attempt to turn heads, he rode into the celebration on his skates while simultaneously playing a violin but unfortunately forgot a vital part of his design. Merlin's skates did not have the ability to turn or stop which caused him to crash into a mirror, leading to physical injuries and a bruised ego. Talk about coming in with a bang!

In the decades to come, many inventors created a variety of roller skate designs, but none were as successful as the four-wheeled skate, or quad design, created by James Leonard Plimpton in 1863. Using springy carriages called trucks, Plimpton's design allowed people the ability to turn in either direction by simply leaning from side to side.

The success of Plimpton's roller skate lead to the opening of the first roller skating rinks in the United States in 1866 in New York City and then Newport, Rhode Island.

In the 1950's, 60's, and 70's, roller skating became a pivotal part of American pop culture with the popularity of carhops at drive-ins. Television shows like

Happy Days

and films like American Graffiti helped solidified roller skating as a "cool" pastime for American families.

Today, roller skating has evolved from a fun pastime to a world of competitive sports. Different styles of skating have emerged, including: Speed skating, artistic roller skating, dance and freestyle skating. Other team sports including roller hockey and roller derby are also very popular.  
Sparkles is Kennesaw's go-to place for active fun with friends and family! From arcade games to laser tag and roller skating, we've got it all! Put some fun into your weekend with a trip to Sparkles in Kennesaw!