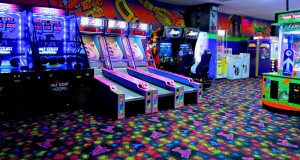 Sparkles Family Fun Center is Kennesaw's go-to place for hours of family fun! From our awesome skating rink to our arcade full of classic and new games, it is our goal to provide each and every person that walks through our doors with a fun, safe, and exciting environment to play with friends and family. Take a look at what people have to say about their visit to Sparkles.
"Spent the whole day there all three of my kids were entertained and the staff was friendly! A great time for the whole family!!"– Tiffany Sparks
"Great place to skate with the family. Great exercise too."– Melissa Cox Abernathy
"We just had our church go for some family fun and had a great time! Fun for all ages with lots of activities for everyone."- Jeanine Pvel Teague
"Love it love the music and free WiFi so u could do homework while kids skate."– Misty Holcomb
"Great fun for the whole family!! Huge skating rink, arcade area for kids that don't want to skate, indoor playground for the little ones and great kid food!! Completely worth it. Awesome staff, super friendly! Also it is very clean. Love it!" – Khen Paul
Do you love to spend time at Sparkles? Share your stories with us on our Facebook page! Like our page for daily updates on upcoming events, location news, and fun tidbits on all things skating!
Don't forget to join us every Thursday night this summer for Free Family Fitness and Fun Skate Night from 6:00pm to 9:00pm. Skating admission is free and rentals are just $4! It's the perfect way to de-stress and unwind with the family after a busy day.