There are few things that remind people more of their youth, than playing an exciting game of laser tag. To some, this sport is a pumped up version of hide-and-go seek, but this high energy game is much more than a simple activity, it's a unique way to create bonds and bring people together. Though it may not seem like it at first glance, laser tag can be a fun alternative to traditional team building activities. If you are a business owner looking to put some spunk into your quarterly meetings, consider bringing your staff to play in our 3D laser tag area. At our family fun center in Kennesaw, Georgia, we offer a variety of fun activities guaranteed to keep your crew smiling from ear to ear.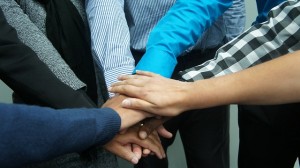 Communicating, Problem Solving, and Working Together
Communication is a key element to creating a positive work environment for all your employees. A team who miscommunicates and is divided will not succeed versus a team who talks strategy, can communicate their ideas clearly, and work together towards their overall goal. Laser tag is a game that teaches all of these things, including good sportsmanship, but without the boring lectures or bland powerpoints.
Work Can Be Fun Too
The idea of a 9am to 5pm workday is a thing of the past, with businessmen and women working well into the night answering emails or finishing that "big project". The work/life balance of some employees can be blurred or even non-existent at all. Remind your staff that enjoying life and creating friendships is just as important as getting your work done. Laser tag brings groups of all sizes together in a fun environment, to laugh and build stronger personal relationships which, in turn, create more productive workdays. Win or lose, getting to relax and play games with your colleagues is a great way to build up morale.
If you are in the Atlanta area and ready to give your staff meetings a laser tag makeover, come to Sparkles Family Fun Center in Kennesaw, where we make work, fun! Don't wait to book your next event with us, give us a call at (770) 428-3941.