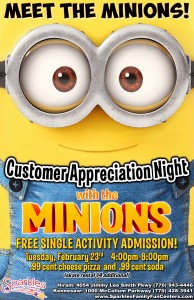 If you're looking for a fun way for your family to spend a winter evening in Kennesaw, mark your calendars for our upcoming Customer Appreciation Night! We are giving you FREE skating admission on Feb. 23rd from 4 pm to 8 pm to show you how much we value your support.
Customer Appreciation Night is sure to be a ton of fun, because we're not only offering free admission, we're also bringing some of your most beloved movie characters along: the Minions! The Minions will be here skating and posing for pictures with our guests, making this a great event for kids of all ages. We encourage you to invite friends to our Customer Appreciation Night as well, so you can have even more fun. You can bring your own skates, or rent a pair from us when you get here. Whether you prefer quad, speed or inline skates, we have them all.
Keep in mind that we have other activities for guests of all ages in addition to skating. You and your family can play a friendly game of laser tag or some arcade games, smaller kids can explore our indoor playground and you can all have a bite to eat at Couey Cafe.
At Sparkles, we've been providing families in the Kennesaw area with a place to skate and spend time together for the past 56 years. Our Customer Appreciation Night is a way of saying thanks to all of our customers for your ongoing support. We wouldn't be here without you!
Don't forget to spread the word, and we look forward to seeing you on February 23rd!