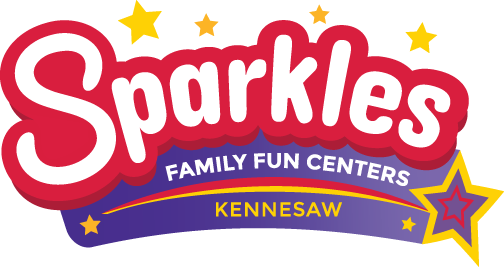 A long time ago in a galaxy far, far away Sparkles Kennesaw was host to Darth Vader himself with his Stormtroopers at his flank. Darth Vader and Luke Skywalker battled it out in our laser tag arena, chased each other around the skating rink, and hid in the nooks of the indoor playground. The battle ended with Luke victorious but Darth Vader has returned – and he's helping celebrate your birthday!
Keep a lookout when you get to your party table, you might just see a Stormtrooper coming over to investigate your allegiances. Are you loyal to Darth Vader or the Jedi knights? Armed with your very own lightsabers, you'll be ready to battle it out with Darth Vader and his Storm Troopers again in the laser tag arena, and reclaim Sparkles Kennesaw as a place of family fun for all Jedi!
Choose any of our party packages and add on this Star Wars themed adventure party for only $79 more. It will include a meet and greet at your party table, an Imperial Escort to the Laser Tag Arena, a game of laser tag with Darth Vader and the Stormtroopers, lightsabers for everyone to battle them off, a balloon bouquet with a Star Wars character, and Star Wars themed party goods.
Book your party today – they are filling quickly! We look forward to seeing you at Sparkles Kennesaw and helping you celebrate an unforgettable birthday!