How do you know you've made it to Sparkles Kennesaw? Because you see the skate car sitting in our parking lot! Jeff Couey and his skate car have been the focus of many an article, parade, car show, and maybe the subject of a ticket or two. Today, read up on the history of our infamous skate car that was brought here by the Couey family back in 1975.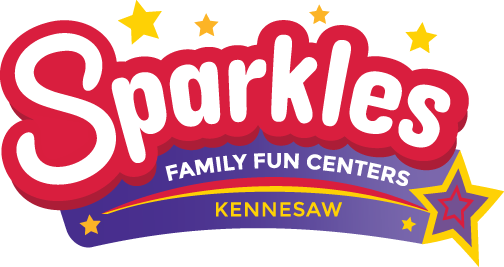 In 1975 Mr. Couey – Jeff's father – and he made the trip down to Daytona, Florida to purchase a skate car that was one of only nine built by a Mr. Strickland. Mr. Strickland had gotten the idea to build the skate cars as a way to combine his two passions: roller skating and building cars. He thought them up as a unique way to advertise for skating rinks, and the Couey family thought that the cars were a great idea. Jeff and his father actually went to Florida and bought two cars – each at a purchase price of $8000. They kept one for themselves and sold the other to a friend in the skating industry. Throughout the years, that skate car has been the icon of Sparkles family fun centers across Georgia, and it is well known by skating rinks across the country.
The car is built on the chassis of a VW bus and runs off of a VW engine – with no lack of power. The body is constructed of fiberglass and actually looked rather different back in 1975. At that time, high top roller skates were the style, so the skate car had a high top piece that attached. Since then, we have removed the detachable high top and we use the skate car as a low top – to keep with the style of roller skates today.
Jeff Couey was thrilled the day that his dad went down and bought the skate car, and he couldn't wait to get it back to his home town of Mableton, GA and show it off to all of his buddies. He recalls one story in particular:
I was 17, and me and some friends would meet up in the parking lot of Hawthorn Plaza and hang out in the evenings. One night, we were out there messing around and I decided to show off just what my skate car could do. I was racing the engine and did a little 'cat walk' – where you pop the clutch and the front wheels raise off of the ground. Sure enough, a cop pulled me over right then and there. I got four tickets – excessive speed, reckless driving, lifting the wheels off of the ground, and one more. I remember the cop saying, "Jeff, your Daddy isn't going to be pleased with this one." He was right.
Since then, the skate car has surpassed it's 4 tickets with numerous awards from parades and car shows. Jeff Couey loves to drive that skate car around just as much now as he did when he was a 16 year old in Mableton. What he loves most about driving the one of a kind car all through the years is that it has a unique ability to reconnect Jeff with some of his oldest friends. He is often at a gas station or stopped at a red light when someone says, "Aren't you Jeff Couey? I remember you!" and Jeff is able to recall someone from the years he grew up in Mableton, or as a competitive skater, or someone from his many miles of traveling.
Keep your eye peeled for Jeff and his infamous skate car. You are sure to see him driving around Kennesaw, GA at some point, showing off his 'speed skate' and just enjoying the ride.