When it comes to summer there is no better way to spend it then hanging out with friends at summer camp. But what if your summer camp is boring and you just wish you could go home? Spice it up with a visit to Sparkles Kennesaw! Don't let your campers be bored – we've got great fun at great rates right here in Kennesaw, GA.
If you are a daycare, summer camp, VBS group, YMCA or any other group that wants to come for a play day at Sparkles Kennesaw, make your reservation and get great rates.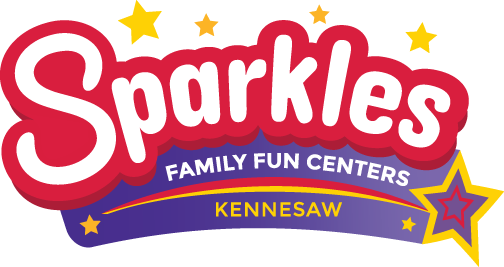 Our group packages include pizza and soda and you get to pick from all of our activities. Choose more than one activity, and get an even better deal. But, if you decide to only book one or two activities for your whole group, we will allow your individual campers to purchase additional activities on their own at the regular public prices. You get to choose from:
Skating: Skate rental included
Playzone: 10 & under
Laser Tag: 1 Game per activity
Arcade: 12  game tokens
Our group rates are available for a minimum of 10 people and must be booked at least 24 hours in advance with a signed contract. Booking less than 24 hours in advance will be an additional $1 pp charge.
When you book your party make sure to let your campers know that they will need to wear socks so they can skate or play on the indoor playground. Also, pass along that more activities and fun stuff from the stuff shop will be available for them to purchase while they are here.
Spice up your summer camp fun with a group trip to Sparkles Kennesaw. Join us for an afternoon of roller skating, indoor playground, laser tag, or beating each other in the arcade. We can't wait to see you here!