Friday, April 14th is our Tiny Tots Easter Party!

*5 AND YOUNGER ONLY*
Bring your Easter Basket for our GIANT Easter Egg Hunt – PLUS the Easter Bunny will be here!
All toddlers, parents, and grandparents are welcome…..and you can even bring your ride-on toys or toddler skates to have fun on our huge skate floor.
We will be making January hand-prints, have our bounce house on the skate floor and bring out our giant parachute!
10:00am – 1:00pm $5 Admission $8 Admission with lunch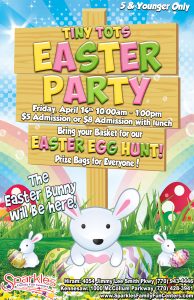 2016 – 2017 Tiny Tots Schedule